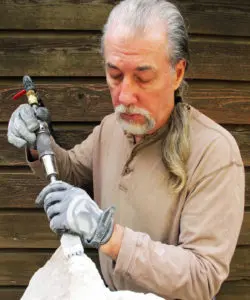 Not so very long ago, I was a carpenter and cabinetmaker. At the age of 50, I had the opportunity to make a change in my life, and I chose to begin sculpting. My formal art education has included just a handful of courses at the University of Alabama at Birmingham and a few workshops at the Sloss Furnace and at the Birmingham Museum of Art. Overall, my most rewarding learning experiences have been under the mentorship of the late Cordray Parker, one of Birmingham's best-known and well-respected bronze sculptors. As a result of this experience, I have been able to explore the nuances of mold-making, casting, and pouring bronze using the lost-wax method.
In addition, I have to acknowledge the influence of my artist family — my brothers, my sisters, as well as my late father, Charles Umlauf, a famous sculptor in his own right. I grew up in a home filled with life-size renditions of religious icons, studies of animals, figure studies, and images drawn from Greek mythology. Although art was an integral part of my early life, only now, in my latter years, have I begun to try out my ideas in bronze, ceramics, wood, and stone (marble, alabaster, honeycomb calcite), as well as bronze with stone. My strong work ethic has allowed me to invest fully in my artwork. I have even surprised myself with what I have been able to achieve, starting with clay, wax, or rough stone. Like my father, I prefer figurative work and compositions representing the family, as well as abstractions were drawn from the medium itself.
When I look at the raw material, clay, wood, or a stunning piece of alabaster, I take in the integrity and images within the material. The artist's challenge is to take full advantage of the natural beauty of the materials and transform it into an emotive figure. The artist must maintain the strength of that natural state and imbue the new object with an aesthetic value that is both tactile and visual. One of the hallmarks of my work is that I am solely responsible for every step in the preparation of a sculpture. Many artists have contracts with bronze foundries to prepare molds, pour the bronze and apply patina finishes to their work. Others employ stone workers to rough out or polish marble or alabaster figures. These steps are tedious and labor-intensive. However, I enjoy the labor and the creative demand of sculpting in marble, bronze, and wood. In the end, the viewer is certain that every stroke and every mark is intentional and serves to convey my purpose.